End press racism now:
Demand IPSO Protect Targeted Groups Against Press Discrimination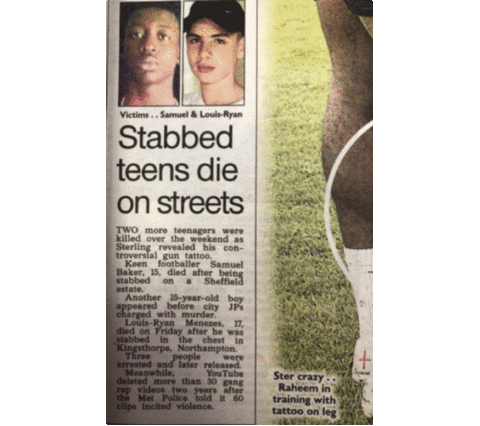 Wow - this is how many people have signed already:
It is time for the media to accept the part it has played in fuelling and legitimising the rise of racism and Islamophobia.
The so-called press 'regulator' IPSO refuses to take complaints about discriminatory language aimed at minority groups. Making them complicit in the hate directed at minority ethnic communities.
Take a stand against group discrimination and help us fight for a press we can be proud of.
Add your name alongside John Barnes MBE, Baroness Warsi, Jamelia, Show Racism the Red Card, dozens of MPs, peers and rights organisations and DEMAND press protections for targeted groups.
After 70 years of failed regulation the public deserve a genuine, independent press regulator and a press that works for everyone.
Every member of every vulnerable minority knows IPSO cannot and will not protect them, even from the cruellest press abuse. Join us – sign this petition urging IPSO to address this problem urgently and publicly NOW.
#RacismInThePress
Dear Independent Press Standards Organisation,
Racist and faith-based attacks against communities are so common in parts of the press that they have become a dangerous normality. It is clear that these attacks encourage the discrimination, harassment and violence suffered by members of minority communities every day.
By allowing these abuses to go on without sanction you are turning a blind eye to the continuing incitement of hatred.
We write to express our deep dismay and to ask you to address this problem urgently and publicly. While the press must be free to do its job, your implicit condoning of religious and race-based hate must stop.
Yours,
Baroness Warsi  |  Baroness Lister  |  Baroness Osamor  |  Kate Osamor MP  |  David Lammy MP  |  Yasmin Qureshi MP  |  Caroline Lucas MP  |  Preet Gill MP  |  John Barnes MBE  |  Jamelia  |  Marsha De Cordova MP  |   Clive Lewis MP  |  Kate Hollern MP  |  Baroness Judith Jolly  |  Lord David Alton  |  Lord David Steel  |  Baroness Haleh Afshar  |  Baroness Hollins  |  Sajda Mughal OBE, CEO JAN Trust  |  Lord Filkin  |  Lord Neil Kinnock  |  Lord Tom McNally  |  Cllr Avril Coelho  |  Lady Glenys Thornton  |  Lord Sole  |  Lord Hylton   |  Lord Frank Judd  |  Bianca Jagger, President of the Bianca Jagger Human Rights Foundation  |  Steve Coogan  |  Olivia Colman  |   Clare Hepworth OBE  |  Baroness Helena Kennedy QC |  Sanjeev Bhaskar, OBE   |  Chi Onwurah MP  |   Debbie Abrahams MP  |  John Cryer MP  |  Former NUJ president Jacob Ecclestone  |  Faisal Rashid MP  |  Tan Dhesi MP  |  Mohammad Yasin MP  |  Catherine West MP  |  Naz Shah MP  |  Virendra Sharma MP  |  Mo George  |  Keith Vaz MP  |  Valerie Vaz MP  |  Shabana Mahmood MP  |  Cllr Hashim Bhatti   |   Karen Buck MP  |  Sandy Martin MP  |  Andy Slaughter MP  |  Stephen Morgan MP  |  Jess Phillips MP  |  Tom Brake MP  |  Norman Lamb MP  |  Rachael Maskell MP  |  Wera Hobhouse MP  |  Geraint Davies MP  |  Peter Kyle MP  |  Sharon Hodgson MP  |  Stephen Kinnock MP  |  Wes Streeting MP  |  Tim Farron MP  |   Ian Lucas MP   |   Alan Whitehead MP   |   Barbara Keeley MP  |   Sir Ed Davey MP  |  Alistair Carmichael MP  |  Lisa Moorish  |  James O'Brien  |  Rose Hayden  |  Media Reform Coalition  |  Salma Yaqoob  |  War on Want  |  Global Justice Now  |  Ged Grebby, CEO Show Racism The Red Card  |   Steve Turner, Unite Assistant General Secretary  |  Faiza Shaheen, CLASS  |  Chris Frost, Chair of the NUJ Ethics Council  |  Professor John Tulloch  |  Tim Fenton  |  Migrant Voice  |  Sleaford Mods  |  MEND  |  Fair Vote UK  |  African Women's Welfare Association  |   Nigerian Organisation of Women  |   Faith Matters  |   Sikh Federation UK  |   Denise Welch  |  Dermot O'Leary  |  Shahidha Bari, QMUL  |  Professor Helen Beebee, University of Manchester  |  Professor James Curran, Goldsmiths University  |   Professor Jonathan Hardy, UEL  |   Professor Einar Thorsen, Bournemouth University  |   The Media Fund  |   Yvonne MacNamara, CEO The Traveller Movement  |   Fran Boait, Executive Director of Positive Money  |   Dr. Zahera Harb, University of London   |   Professor Richard Sambrook, Cardiff University  |   Dr. Xin Xin, Westminster University   |   Dr. Kerry Moorse, Cardiff University   |    Dr. Ed Bracho-Polanco, University of Westminster  |  John Owen, Professor of International Journalism  |   Professor Karin Wahl-Jorgensen, Cardiff University   |    Alaphia Zoyab, Campaigner  |   Gareth Lowe, Chair of Unite's National Publishing and Media Branch   |   Stand Up To Racism   |   Interfaith Glasgow  |  Dr Faith Gordon, Monash University Melbourne  |  Jennifer Nadel and Matt Hawkins, Co-Founders of Compassion in Politics  |  National Sikh Youth Federation  |  Media Diversity Institute  |   The Hacked Off Campaign
ADD YOUR NAME TODAY – TELL IPSO "PROTECTIONS AGAINST GROUP DISCRIMINATION MUST BE IN THE EDITORS' CODE."
We rely on people like you to make a difference.
Give now to support the campaign for a free and accountable press.