Compare and Contrast: Multiple examples
Sometimes IPSO 'mediates' between a newspaper and a complainant and a newspaper agrees to print a correction or apology without IPSO having to make a decision.
Sometimes the complainant will reject the mediated proposal and will pursue their complaint all the way through to an 'adjudication'.
Here are some examples:
FEB 3, 2017. The Daily Express prints adjudication on page 5 with small front-page reference for inaccurate front-page story: 'EU EXIT BOOSTS HOUSE PRICES' published on 22 July 2016.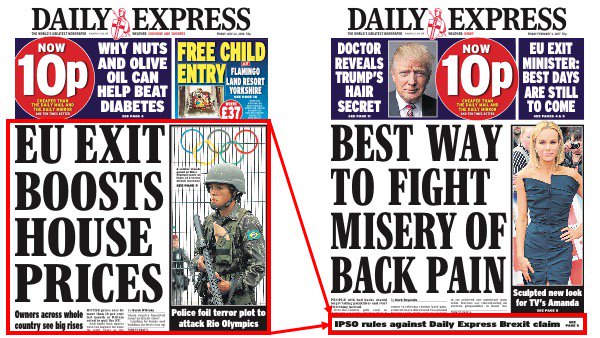 ---
FEB 7, 2017. The Daily Express prints adjudication for front-page '98% SAY NO TO EU' story on 6 July 2016 on page 2, with tiny front-page reference.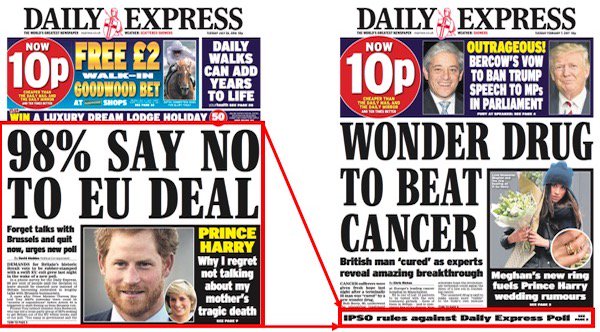 ---
DEC 4, 2016. The Sunday Times ran a story: 'Enclaves of Islam see UK as 75% Muslim," also covered by The Sun, Daily Express and Mail on Sunday.
It was based on an unpublished report by Dame Louise Casey and claimed thousands of British Muslims in the UK were so isolated from mainstream society that they hugely over-estimated the country's Muslim population.
It later transpired that the survey was conducted at one school and that they were asked about Asians, not Muslims.
(Images courtesy of @miqdaad)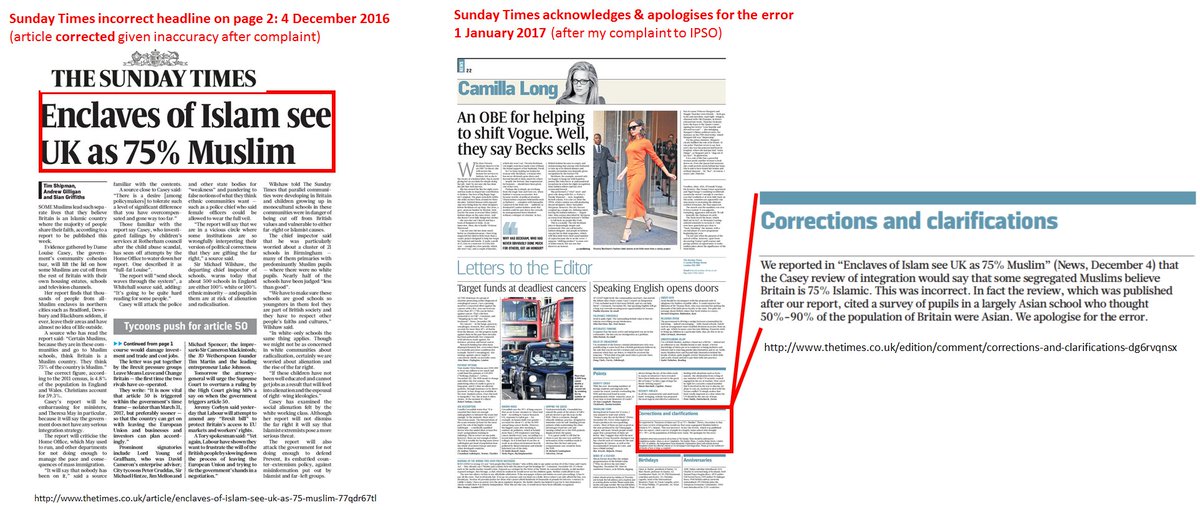 ---
OCT 12, 2016. The Times apologises for saying vaping experts receive funding from tobacco companies. Big leader articles on pages 5 & 27, small apology on page 28.

---
MAY 25, 2016. Correction published online for 'Islamic honour killing' article, buried 6 screens down by the MailOnline.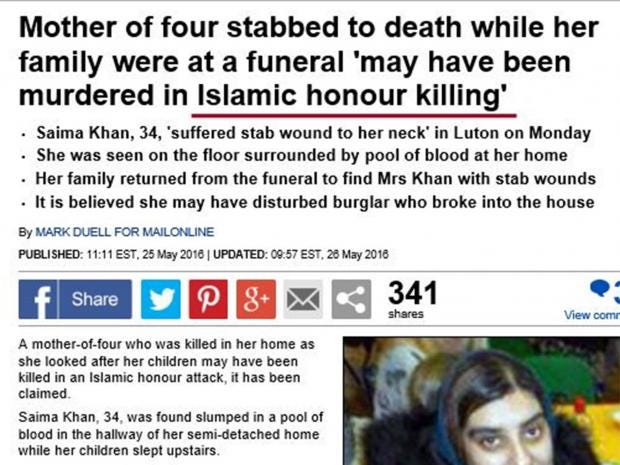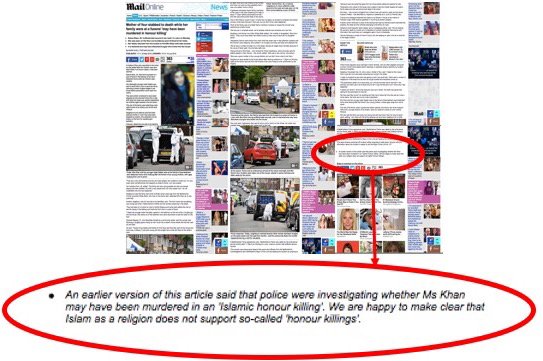 A similar correction was also issued by The Sun over their coverage of the story.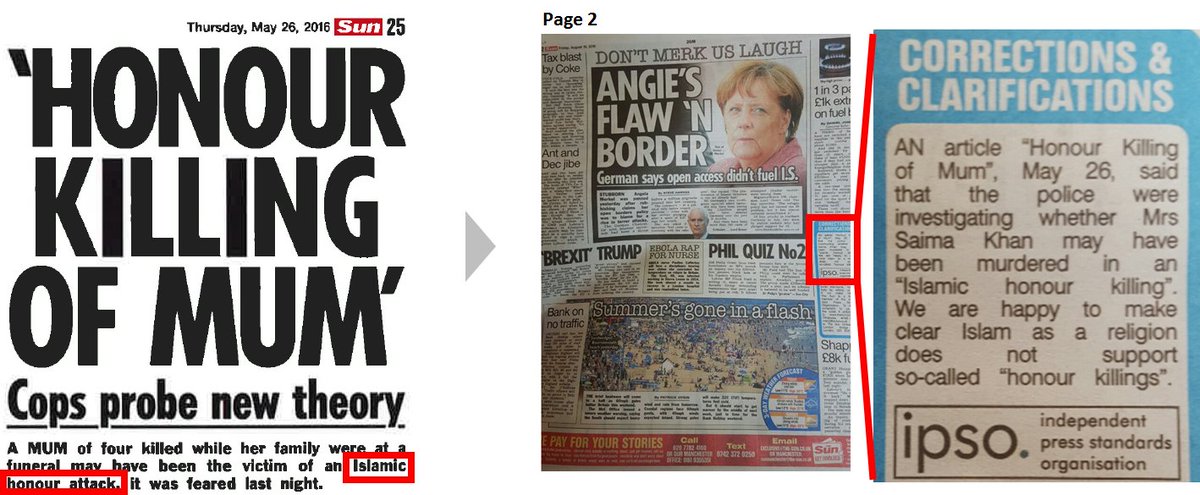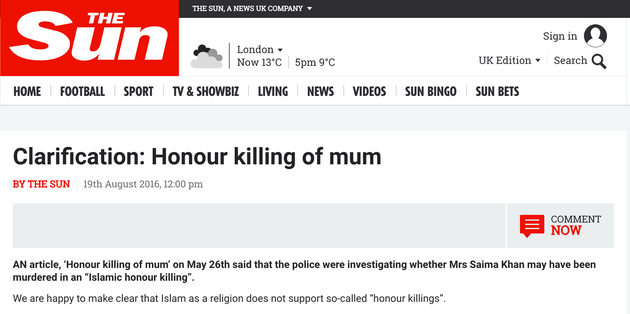 ---
MAY 22, 2016. Sunday Express clarification on '12m Turks say they'll come to UK' poll. It turns out the question was flawed & the results were completely inaccurate.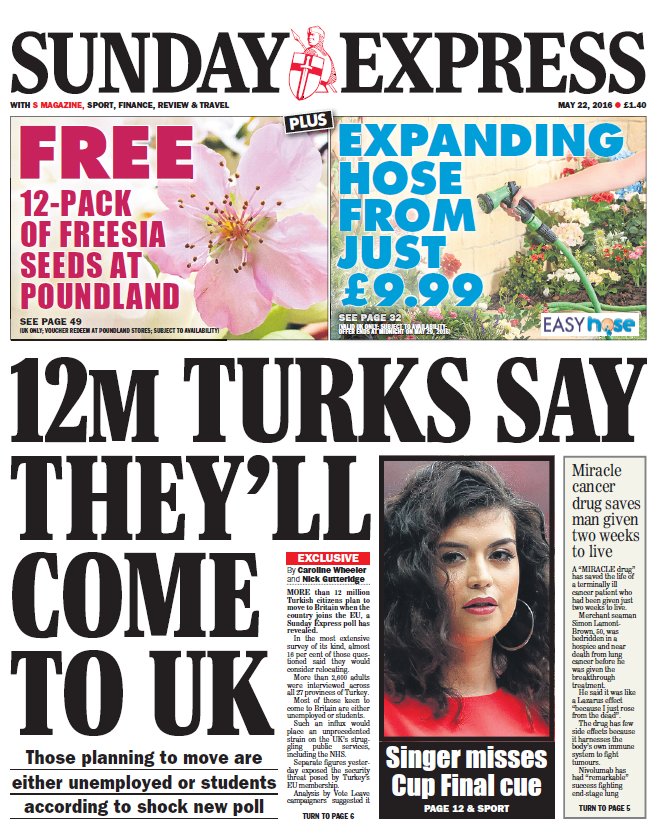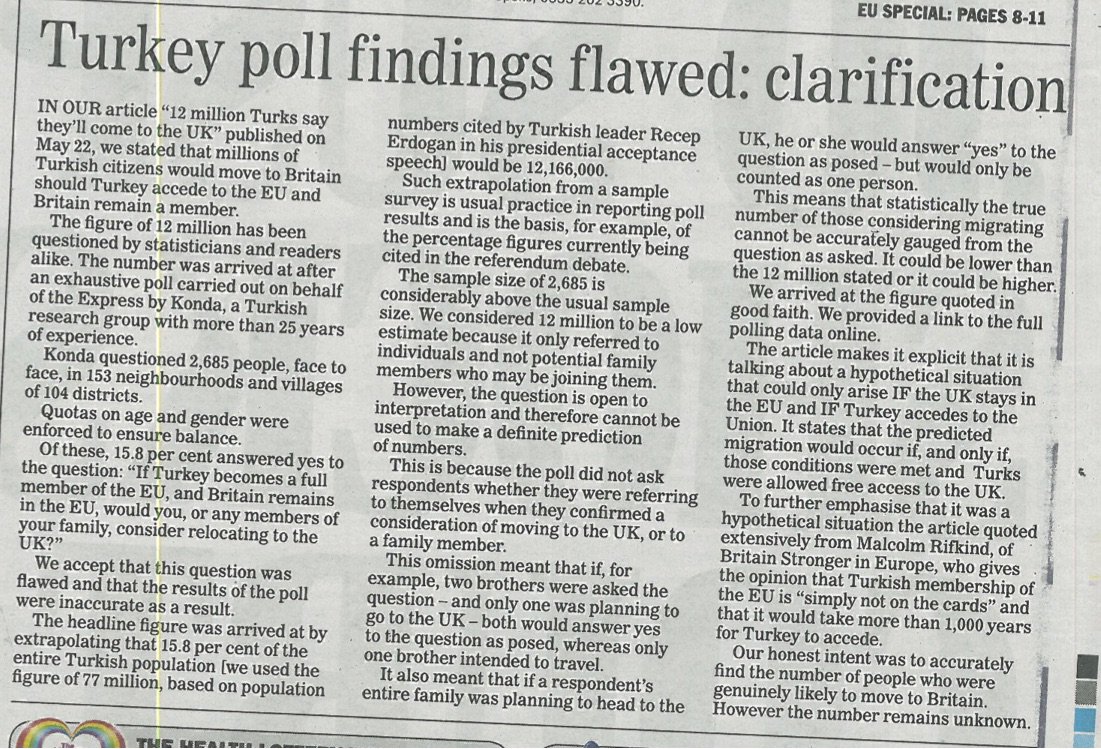 ---
JUNE 16, 2016. Correction printed at the foot of page 2 in the Daily Mail shows 'WE'RE FROM EUROPE- LET US IN!' piece, printed in the run up to the EU referendum, was unsubstantiated.
The 54-word correction read:
"In common with other newspapers, we published a reputable news agency's story yesterday which said that stowaways intercepted in east London had told police that they were 'from Europe'.
"In fact, while they had travelled to the UK in an Italian vehicle from mainland Europe, the migrants told police they were from Iraq and Kuwait."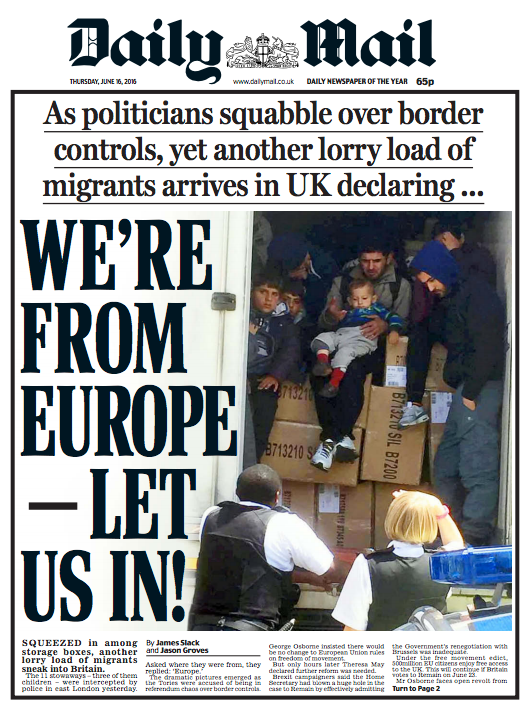 ---
MAY 7, 2016. The Daily Mail admits that in fact the EU has NOT banned swimming at PM's fave spot.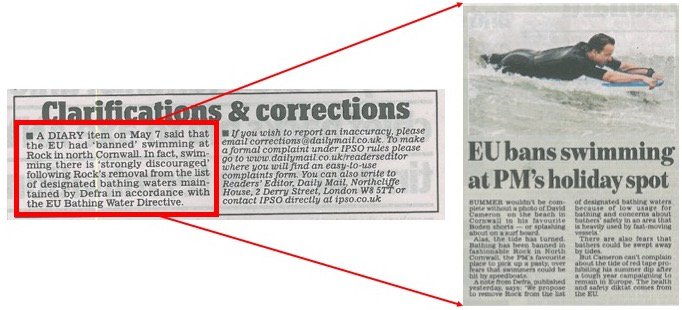 ---
AUG 20, 2016. The Sun claimed a train crash occurred because a Muslim train driver had been fasting at the time. (Images courtesy of @miqdaad)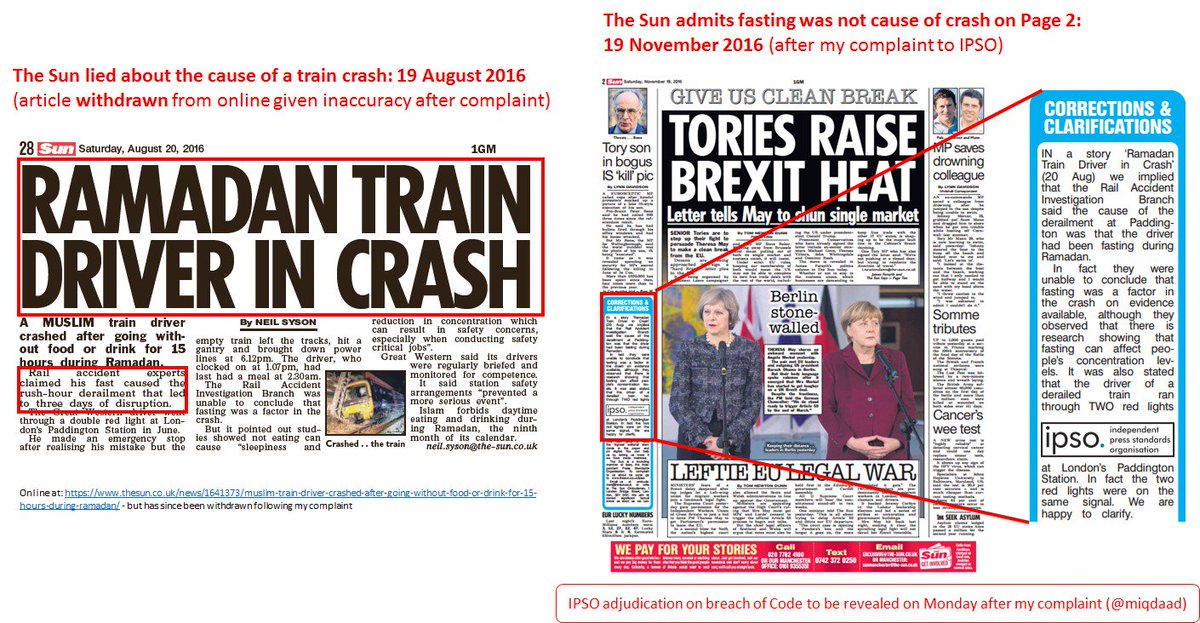 The correction in The Sun read:
In a story 'Ramadan Train Driver in Crash' (20 Aug) we implied that Rail Accident Investigation Branch said the cause of the derailment at Paddington was that the driver had been fasting during Ramadan. In fact they were unable to conclude that fasting was a factor in the crash on evidence available, although they observed that there is research showing that fasting can affect people's concentration levels. It was also stated that the driver of a derailed train ran through TWO red lights at London's Paddington Station. In fact the two red lights were on the same signal. We are happy to clarify.
---
NOV 22, 2015. Tiny clarification for 'UK MOSQUES GIVE CASH FOR TERROR' headline suggesting mosques were "institutionally" fundraising for terrorists.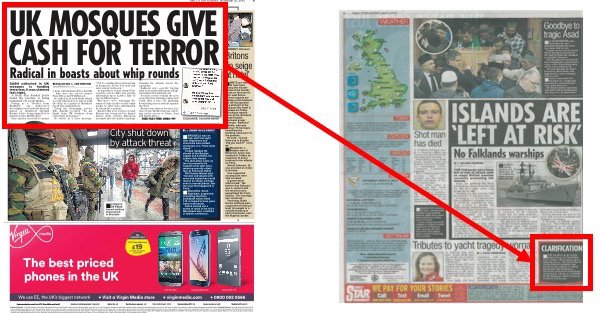 ---
NOV 23, 2015. The Sun's published an article based on a poll carried out after the Paris terror attacks. It said "nearly one in five British Muslims has some sympathy with those who had fled the UK to fight for IS in Syria".
IPSO's adjudication was published on page 2 of The Sun on Saturday on March 26, 2016, 4 months after the complaint was made. It was placed next to a large image of a woman in a bikini.
It read that the newspaper had "failed to take appropriate care in its presentation of the poll results, and as a result the coverage was significantly misleading".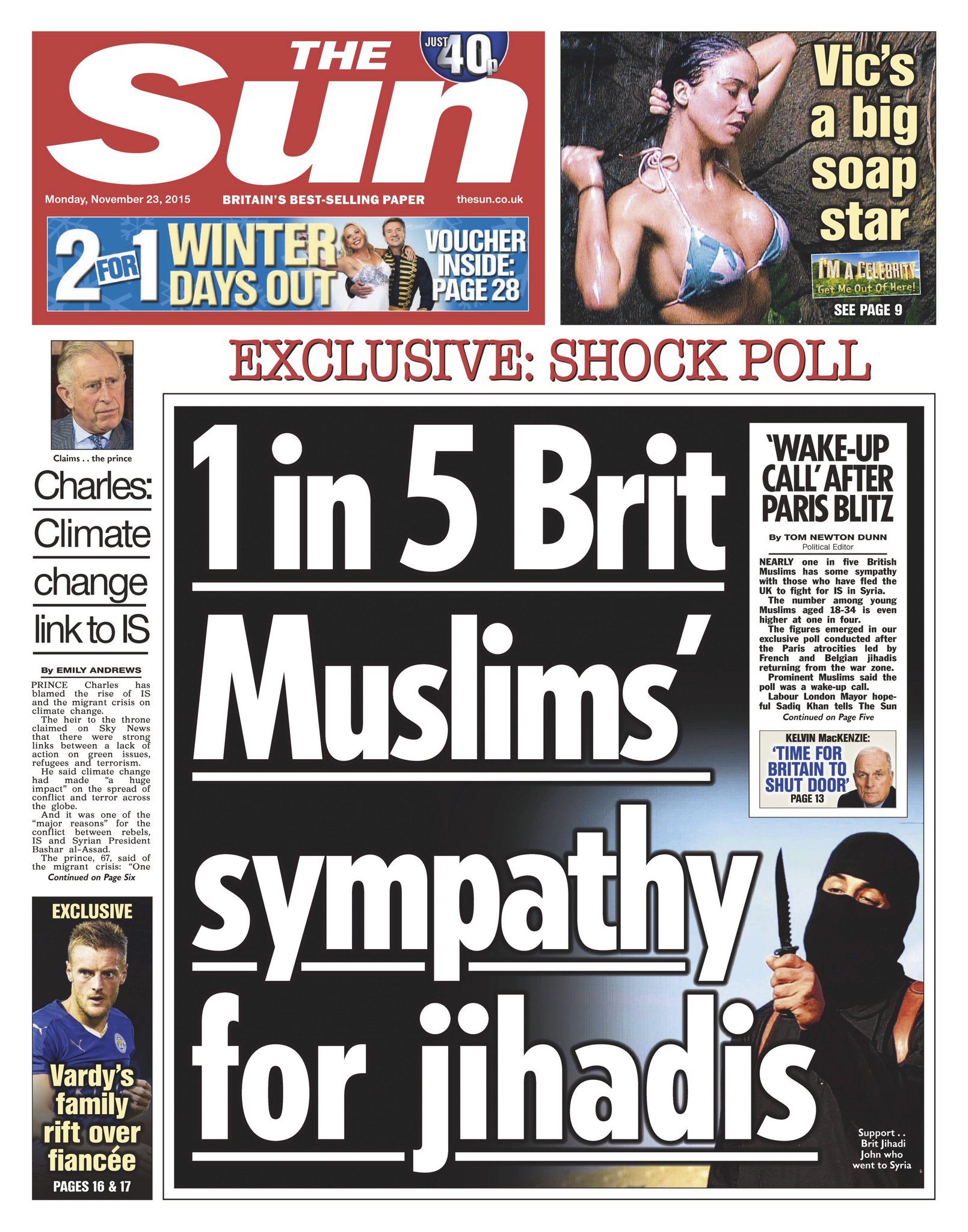 READ BRIAN CATHCART'S PIECE ON THIS CASE HERE.
Like The Sun, The Times, who ran the story the next day, were found to have breached the accuracy clause of the Editors' code. However, since they already published a clarification (see below), IPSO required no further action.
---
DEC 23, 2015. Another tiny correction in the Daily Mail for a misleading front-page refugee/migrant story.